Agile.
Profittevole. Organizzata.
La tua azienda può diventarlo con
l'aiuto dei nostri specialisti gestionali ed
esperti dei processi produttivi.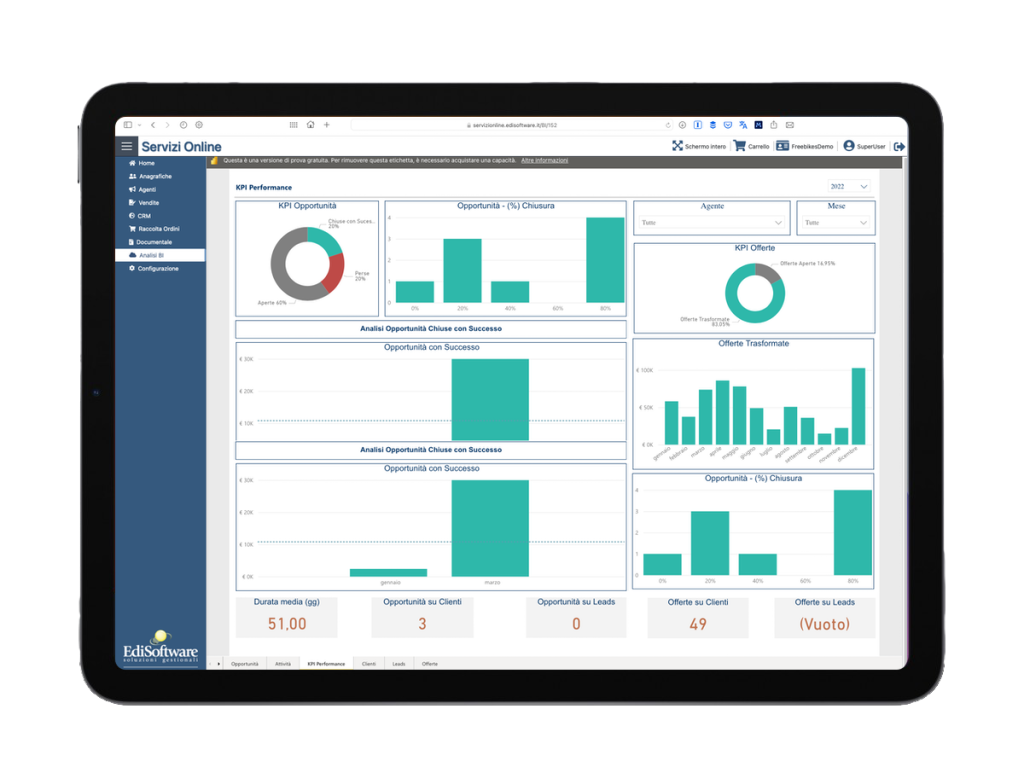 Immagina la tua azienda libera di crescere
Scegli degli Specialisti attivi da 27 anni SOLO nel mondo gestionale.
Scegli i software gestionali ERP, MES e di Pianificazione e Schedulazione della Produzione creati con noi da Edisoftware e Cybertec del Gruppo Zucchetti.
Raggiungerai questi obiettivi* in 90 giorni:
Ridurre il valore delle

scorte di magazzino

 dell'11% con il controllo in tempo reale dell'avanzamento produzione.

Accelerare i processi

 aumentando la velocità nella collaborazione fra reparti-uffici-canale di vendita.

Liberare il 6% dei costi operativi.

Semplificare le

procedure amministrative

 risparmiando fino all'8%.

Migliorare e consolidare i rapporti con i clienti consegnando nei termini stabiliti il 91% degli ordini.

Prendere il controllo

automatizzando notifiche ed alert

 proattivi in base ad eventi e dati.

Aumentare l'integrazione con Clienti e Fornitori grazie agli standard internazionali di scambio dati e documenti.
Nessun altro può aiutarti con uguale passione e concretezza.
*Ricerca Aberdeen Group "Measuring the ROI of ERP in Small-Medium Business"
Esplora i software gestionali che puoi sfruttare per la tua azienda

CyberPlan
Un software simulativo, perfettamente integrato con Onda Vision e con i migliori ERP sul mercato, che permette di governare il proprio processo produttivo. Dalle previsioni di vendita fino ad alla pianificazione e schedulazione a capacità finita della produzione in un solo strumento modulare.
L'opinione di chi ha raggiunto i suoi obiettivi
Compes
"Con il gestionale Oceano Compes è in grado di gestire in un unico applicativo tutti i dati aziendali, integrando le informazioni di ciascun reparto e beneficiando di un controllo capillare di tutte le fasi operative"
Scatolificio Bresciano
"Disponiamo di uno strumento che va molto al di là del programma gestionale fine a se stesso. Il monitoraggio costante e preciso degli approvvigionamenti di materie prime e delle consegne di imballi rappresentano una necessità imprescindibile della nostra Azienda"